State House, Room 546-2 Boston, Massachusetts 02133 -Telephone (617) 727-2966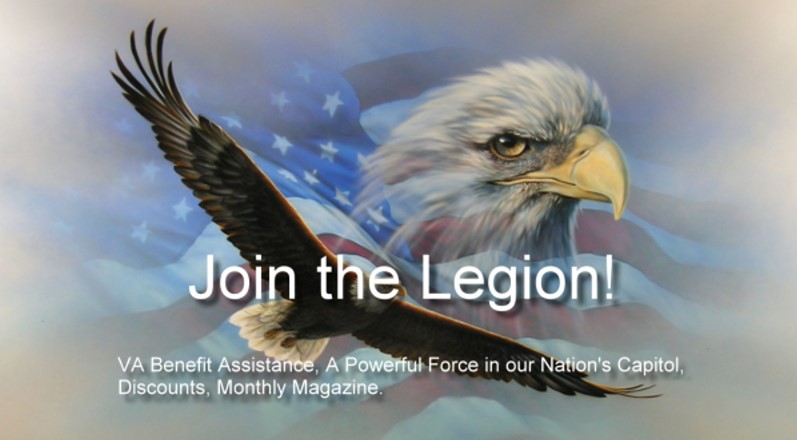 Each year, American Legion department service officers help thousands of veterans receive VA benefits they earned through service to their country. The Legion conducts, promotes and supports hundreds of career fairs for veterans and transitioning service members, bringing employers face to face with job hunters. Legion staff lobbies Congress for better quality of life for U.S. military personnel.
Need Help with a VA Claim? Not getting the benefits you earned?
Contact the American Legion Service Officers for Assistance.
American Legion DSO
JFK Federal Building Room 1500D
Boston, MA 02203
(617) 303-5694
---
American Legion DSO
380 Westminster St Suite 204A
Providence. RI 02903
(401) 223-3685
---
News and Events
Legion Riders promotion, recruitment tools
The American Legion, June 12, 2017
A great way to promote and support the more than 150,000 American Legion Riders and their upcoming Legacy Run, and recruit new Riders, is through customizable ads.
A half and full page ad are located at www.legion.org/membership/tools and available for download.
This year's Legacy Run will leave Fort Dodge, Kan., Aug. 12 and travel west to Reno, Nev., site of the 2017 American Legion National Convention. The Run raises money for the American Legion Legacy Scholarship Fund, which provides college money for the children of U.S. military personnel killed on active duty on or after Sept. 11, 2001, as well as the children of post-9/11 veterans with a combined VA disability rating of 50 percent or higher.
Last month during the Legion's Spring Meetings in Indianapolis, the Legacy Scholarship awarded $671,892 in financial aid to 55 children of the fallen and disabled.
Achieve 100 percent reporting by sharing your post's story
The American Legion's Consolidated Post Report (CPR) is an opportunity for posts to document every activity they fulfilled in a 12-month (June 1-May 31) reporting period – whether it's providing funeral honors, sponsoring youth to attend a Legion program, conducting fundraising efforts or more.
Only 8,900 posts submitted a CPR last year – a 67 percent response rate from the 13,290 total posts worldwide, leaving a third of posts' activities unaccounted for.
The compiled CPR revealed that reporting posts provided more than 4 million community service volunteer hours, conducted more than 7,000 Memorial Day and Veterans Day services, participated in 1,065 veteran job fairs, provided 123,014 funeral honors, awarded 10,308 scholarships to youth, performed 30,023 U.S. flag presentations, presented 8,426 ROTC medals, and much more.
It's important for the CPR response rate to increase so that the great work Legion posts and members are doing in their communities is reflected. And every department with 75 percent or better reporting will receive a certificate from National Commander Charles E. Schmidt by mail. Additionally, the national commander will present a plaque to every department that accomplishes at least 95 percent CPR reporting by July 1 during the 99th National Convention in Reno, Nev., in August.
The 2016-2017 CPR form is located on www.mylegion.org on the left-hand side under Post and Department; it can be filled out and submitted electronically. The form also can be found here to download and submit by mail.
THE NATIONAL VETERANS EMPLOYMENT & EDUCATION COMMISSION AWARDS
The first American Legion Veterans Employment and Education Commission Award was established in 1947, and recognized individuals across the country who had established outstanding records in the employment and retention of workers with disabilities. Since that time, categories were added to the current nine award programs.
The Veterans Employment and Education Commission is striving to award all possible pending awards that are available to The American Legion. We implore all departments to continue to submit award nominations for the awards with the hope that we receive all 400 + possible nominations. We are striving to reach 100% participation in this program.
Employer of Veterans Award - (Small)

Employer of Veterans Award - (Medium)

Employer of Veterans Award - (Large)

Employment Service Award - (DVOP)

Employment Service Award - (LVER)

Employment Service Award - (Local Office)

Employer of Older Workers Award

Enhance the Lives of Disabled Person Award

Michael Guty Homeless Veterans Outreach Award
To be considered for the National Award, the deadline for submittals to the Veterans Employment and Education Commission in Washington, DC is January 15, of the following year. Example: To be nominated for the 2017 awards the nomination must be in by January 15, 2018.
It is important that the department winners are submitted by this time to ensure that they are considered for the national award to be delivered at the annual National Convention. Each of the national winners receives a stipend to help defray the cost of their representative's travel to the convention city to accept the award.
We ask that you submit written correspondence, or fax, or send an electronic scanned copy in the form of an e-mail to our national headquarters office. Please title your letter '[Title] Awards- [Department name]'.
All entries must be accompanied by an official nomination form (see the following pages) and must not be longer than two pages of narrative. Supporting documents, which may also be submitted with the nomination, must not exceed ten pages.